Daleo Motors, Auto, Car, Truck SUV Sales & Leasing is located at 1575 Main St. E and 850 Barton St. East in Hamilton, ON. Over the past 3 decades, Daleo Motors has been home of the Better Deal - since 1983! We have become a premier retailer of Pre-owned  vehicles. Our dedicated sales staff is here to make your auto shopping experience fun, easy and financially advantageous by understanding and catering to your needs. Please utilize our various online resources and allow our excellent network of people to put you in your ideal car, truck or SUV today!
We are proud members of the Used Car Dealers Association (UCDA), Ontario Motor Vehicle Industry Council (OMVIC), and the Better Business Bureau (BBB) A+ accredited.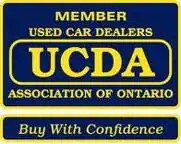 FOR YOUR PIECE OF MIND we urge you to visit our facility to view, inspect, test drive, and have the vehicle you desire independently inspected by a mechanic of your choosing prior to buying, leasing or financing your vehicle of choice.
We offer a variety of lease/finance options  including, in-house, buy here pay here, no credit check. Simply click here to go to our
Finance Page
and get started, or call us at 1-888-869-2193.